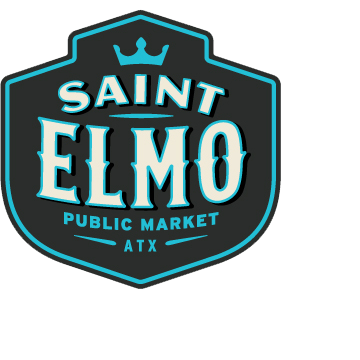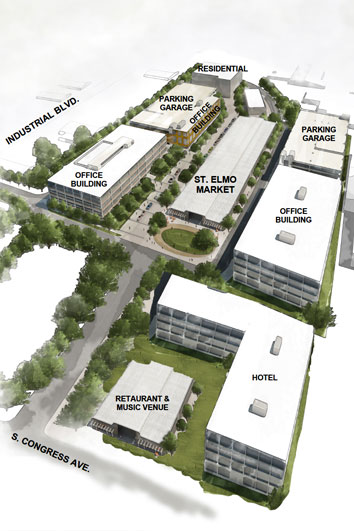 Saint Elmo Public Market will be home to one of the most exciting and beautiful creative-office spaces in Austin. The project will attract music, entertainment, media, technology and related companies to the office space, building a "creative industry mecca" as well as a beautiful and inspirational environment to work in. The offices will feature rooftop access and event space, natural lighting, tall ceilings, exposed ductwork, open floor plates, ample parking and a unique character overall. A limited amount of ground floor retail space will highlight vendors who wish to showcase their creative goods and services. The Saint Elmo district will have a creative vibe overall, which fits into Austin's live music culture.
Saint Elmo Public Market will also be Austin's first indoor-outdoor marketplace and a one-of-a-kind cultural space in Austin. It will be a highly curated gastronomic destination for Austinites as well as visitors and foodies from around the world. It will be a place of business for local craftsmen, restaurateurs, farmers, artists and musicians. For the public, it will be a place to gather, dine, or have a drink with friends and family in a relaxed and inspiring environment. Additionally, the market and surrounding spaces will focus on the unique culture of Austin - which includes some of the best food and live music in the world.
The market will offer a complementary combination of specialty food shops, such as creameries and bakeries to full-service restaurants and diners. A central focus of the market will be the very best of what Austin has to offer in local vendors. The build-out will highlight the old building's thoughtful and beautiful details (such as high transom windows that allow in the perfect amount of sunlight) while the vendors will uncover America's built by hand legacy. Saint Elmo is committed to creating an artful and beautiful place where people will enjoy their lives and Austin's local culture.
As South Congress continues to evolve into one of the most distinctive and vibrant streets in the country, it's expected that the Saint Elmo site will become an iconic South Austin/South Congress destination for locals and domestic and international tourists. In particular the early success of concepts such as the San Jose Hotel and the retail/dining options just south of the river on South Congress have made the street one of the preferred location for the creative class that fuels the Austin economy as well as the mass of tourists that flock to Austin on an annual basis. The Saint Elmo site is located in the path of progress on South Congress and GroundFloor envisions a location that locals and visitors talk about when discussing a great place to shop, eat or see a concert. Saint Elmo will become part of the cultural fabric of Austin and a "must-go-to spot" in Austin for tourists.